15 Tips for Writing Effective Flyers
You'll lose your audience if you don't have good content.
Everyone know that flyers are a great way to advertise your skill set or business. However, if your message falls flat, you'll quickly lose any attention you gained through a great design.
Here are 15 tips for writing an effective flyer with content that can stand on its own.
1. Keep It Brief
You have probably heard dismal statistics about America's shrinking attention span. Take your message and edit it down to the crucial elements you need to convey. If the customer needs more information, you can direct them to your address, phone number and website.
Tips for Writing Effective Flyers 1
2. Organize Your Info
Use bullet points, text boxes and infographics to organize the information into readable portions.
Tips for Writing Effective Flyers 2
3. Use A Catchy Headline
Put a lot of thought into the headline of your flyer. It should be interesting and pertinent to your business. Reading the headline, the consumer should have a good idea of what you do.
Tips fro Writing Effective Flyers 3
4. List the Benefits
Think of at least five benefits your company provides to customers and list them in a prominent way. It's a quick way of telling the consumer why they should choose you.
Tips for Writing Effective Flyers 4
5. Beat the Competition
Find ways to describe what you do that makes you a better choice than your competition. This flyer does exactly this in bold lettering in the center of the page.
Tips for Writing Effective Flyers 5
6. Proofread Your Writing
Not only should you proofread your flyer, but you should have one or two other people proofread it. A misspelled word or transposed telephone number could make your flyer worthless. This company actually misspelled their own name, as well as many other errors.
Tips for Writing Effective Flyers 6
7. Include a Call to Action
Don't allow the reader to be idle. Keep your words in the active voice, avoiding passive voice. Tell the reader to order now, call now or log on to the website. Make sure they know you want them to interact with you.
Tips for Writing Effective Flyers 7
8. Highlight Special Deals & Offers
If you have any specials or discounts, make that prominent in your flyer. It's added incentive for the consumer to get in touch sooner rather than later.
Tips for Writing Effective Flyers 8
9. Know Your Audience
Do some research to determine the demographics of your audience. Keep the message and tone in line with the kinds of customers you want to reach. This flyer is written for car enthusiasts only. No one else would understand half of the description, and that's OK. Those who wouldn't understand probably wouldn't be interested in purchasing the car.
Tips for Writing Effective Flyers 9
10. Use Only Relevant Information
Make sure your customer knows where you are located, how to get in touch with you, what type of services you do or don't provide and other pertinent information.
Tips for Writing Effective Flyers 10
11. Use Striking Testimonials
If you choose to use testimonials, which are a great way to communicate the value of your products or services, make sure to pick the testimonials that are written clearly, professionally and focus on relevant details of your business.
Tips for Writing Effective Flyers 11
12. Put Your Contact Info at the Bottom of the Flyer
Save the most prominent spot for the headline. The last thing the reader sees, your business' name and contact info, will be the thing to stay in their mind.
Tips for Writing Effective Flyers 12
13. Make the Font Legible
What is the point of all this effort if the customer can't read it? Choose a legible font and make sure it's at a legible size, usually no smaller than 10-point size.
Tips for Writing Effective Flyers 13
14. Put Yourself in Your Customer's Shoes
To keep the language from being too over the top or too focused on sales, think about what you would want as a consumer. What would benefit you and how would you relate this information to a friend? Be straightforward and practical.
Tips for Writing Effective Flyers 14
15. Use the Word 'You'
Using the words 'you' or 'your' indicates you are speaking directly to the reader, not abstractly to some unknown 'they' or 'them.'
Tips for Writing Effective Flyers 15
Personal and Clean Content is All You Need!
Think of these tips while writing your marketing flyer and you should be set up for success.
Remember that the final product should be a harmonious combination of good content and striking design, creating a clear, concise and effective flyer to boost your business.
Ready to put your new writing skills to the test with your own flyer project? Check out our reviews of the best online flyer printers to get started now!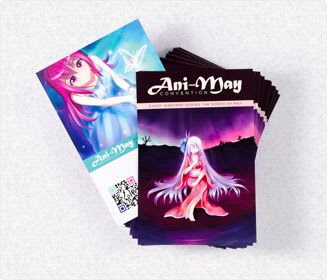 Please follow and like us: